Choosing the correct paper for your image can be tough – a question asked by many of our customers.
Understanding a products features and how it can lend themselves to your image will make the process much easier, especially when it's a brand new paper with unfamiliar characteristics. Once you're acquainted, natural instinct sets in to determine when it should be used.
With certain papers, like our best-seller Oyster 271, this task is fairly simple due to it being such an all-rounder. But there are some paper types that are slightly more obscure, such as metallic inkjet media. Of course you can print pretty much anything on it, but there are particular images that will really excel and allow the paper to bring out all the best feat
So with the launch of our latest metallic paper, Titanium Gloss 300, we've put together some hints and tips on how to get the most out of this product.
TIP 1: HARNESS WHITE AREAS
To harness the full effect of the metallic base, try printing images that contain parts that will use less ink. White areas and highlights will use less, or even no ink, allowing light to reflect off the metallic base and not be completely hidden by a heavy ink laydown.
TIP 2: CHOOSE SHINY SUBJECTS
Consider images that contain water, metal or reflective subjects – whether it be cars, jewellery or architecture, the metallic base combined with the gloss surface will really help these shine!
"We have seen the term 'metallic' used to describe inkjet papers before, sometimes more accurately and appropriately than others. In this case, the paper, thanks to its high silver pigment content, does have a shiny metallic finish and the heavyweight 300gsm base has a silvery, faint grey, very slightly cool look." – Will Cheung, Editor of Photography News magazine (read the full Titanium Gloss review)
TIP 3: SMOOTHLY DOES IT
Images with smooth gradations, such as long-exposure seascapes and skin tones, will really excel thanks to the subtle gloss coating.
"It's perfectly balanced between having enough sheen and still maintaining the contrast and not having too much wash out… I really wanted that subtle, milky varnished sheen over some of the transitions for the more commercial work I was shooting. I think that raises this to a whole other level of what it can do for the right image." – Michael O'Sullivan, OSM Photography
TIP 4: DON'T HOLD BACK
Don't hold back with different styles. Saturated colours, contrasty monochromes and pastel scenes all have the ability to pop on this paper.
"Overall, the results were impressive, in particular the lively delivery of boldly coloured subjects; but this came without losing subtle nuances within scenes. Also I wasn't sure how portraits would come out but they looked great. I also printed a range of my mono images, from dark gritty shots to smoothly toned scenes, and these came out very nicely too with solid blacks, clean highlights and detailed mid-tones." – Will Cheung, Editor of Photography News Magazine
TIP 5: GET EXPERIMENTING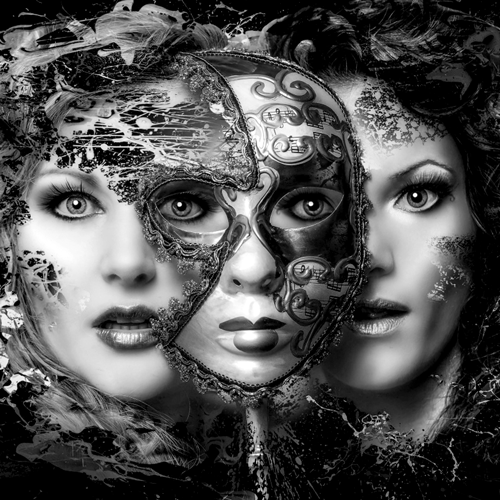 Remember that metallic paper doesn't work for everything, but don't be afraid to experiment – you'll fall in love when you find an unexpected gem that comes to life.
"Slightly avant-garde images such as street photography, high fashion, modern-look portraiture, weddings, and especially monochrome will look good on the silver surfaces. This of course is much of the territory that was captured by the wet chemistry metallic look when it was introduced. The step away from 'reality' might not fare quite so well with nature subjects and where accurate representation is vital (such as scientific recording and image reproduction) – but if you want something a little out of the ordinary then fill your boots!" – Mike McNamee, Editor of Professional Imagemaker (read the full Titanium Gloss review)
TIP 6: USE ICC PROFILES
Don't forget to use an ICC profile to ensure you get accurate results – this is important for any paper you print on. We have generic profiles and a free custom profiling service available.
Not sure what an ICC profile is or why you need one? Read our blog about ICC profiles.
Watch the First Tests on our NEW PermaJet Titanium Gloss 300…
Titanium Gloss 300
PHOTOGRAPHY NEWS 2020 AWARD WINNER
A high-gloss, 300gsm resin coated paper with a unique metallic base.
Available in A4, A3, A3+ and A2 sheet sizes and a roll sizes from 17″ to 60″.