When I first became addicted to photography, the 'industry standard' was a large 20 x 16 mounted monochrome print. A darkroom print. In the club I was then in (Ordnance Survey, Southampton) master printers like John Philpott and Bob Elliott were held in high regard. The same could be said from those other photographers I met along the way – Bob Moore, David Penprase, Tim Rudman, Hugh Milsom and Ray Spence. John Clow and Bill Wisden, apart from being gifted photographers, had one thing in common – they could print to an exceptional standard.
Having your own darkroom meant that you were not just taking pictures, but making something permanent. Exactly the same with a PC and a printer. That magic and thrill of seeing your embryonic vision come to life in the way you envisaged, and the tactile feel of a photographic print, is something that never leaves you. That print, the final outcome, becomes a source of pride in your ability to create something visually enlightening from what you witnessed when you pressed the shutter. It's high in personal satisfaction, and that can be greatly increased when you see it displayed in an exhibition. In many ways, that collection of prints we can build up under the bed becomes a legacy with a lasting value and impact.
There's Plenty More to Taking Pictures than 'That'll Do'!
Much of the direct and simple approach to photography has been 'nicked' by the automatic process which gives competent results that are acceptably average, often considered kind of 'good enough' – just have a think about that phrase 'good enough'. It's OK, yes sufficient, but doesn't quite cut it. There's plenty more to taking pictures than 'that'll do'! It's possible to become reliant on the camera making decisions and taking the uncertainty of exposure out of our hands. Digital capture makes it relatively easy to deal with problems created by slipshod camera craft, that wonderful ability to make us unthinking and lazy! Making prints does not have to follow that trend. With the advent of digital photography it suddenly became a much more accessible craft, far easier to print your own work, in some cases at the touch of a button. Fine, although a straight un-refined print is not the thing to aim at. Just another case of 'that'll do'. It's not 'finished'.
There's more to discover in that RAW file, more to do to tease out the best bits and refine the rest. A 'that'll do' image has a fault or three! The major shortcoming is the lack of a more emotive portrayal, a missing element. The result can look rather 'off the shelf' and ordinary, lacking character and intention. Imagination, beauty and personality are lost in 'straight' work. With practise and realisation that it's not enough to accept second best, coupled with the uncovering of a new skill set, you'll allow the image to breath and communicate in a more emphatic way. En route there are plenty of techniques to try with a fair degree of trial and error. Adjusting, manipulation and style can 'fine-tune' your work, can aid either realism or the more creative 'fantasy' approach much in favour just now. That process of control for tone, colour and luminosity allows us to make pictures with a more extensive range of results – from subtle pastel shades to dense monochrome clout. Chances taken can allow the soft and lyrical look, or a far more brutal interpretation that is indicative of forlorn despair, even anger, depending on what needs to be said.
Another point to consider is that making the right choice of paper surface will give the right 'finished look' for an image. The visual language of a picture can alter with paper type depending on the hue of the white base, it's apparent brilliance and the texture.
…BUT, and a big but, fewer exhibitions are able to accept prints due to lack of gallery space, fewer clubs are running print competitions (this at present is impossible), and fewer photographers are printing their work. This is partially because it's much easier to submit work at the touch of a button for the ever expanding list of online exhibitions. Postage, packing, the undeniable expense of making a print all contribute to this fact. DPI's are without doubt easier, and success with them still gives you some element of credence, that sense of elation if your work is chosen. Is this a reason not to print your work? It's not a bad choice to have a foot in both camps. I'll explain.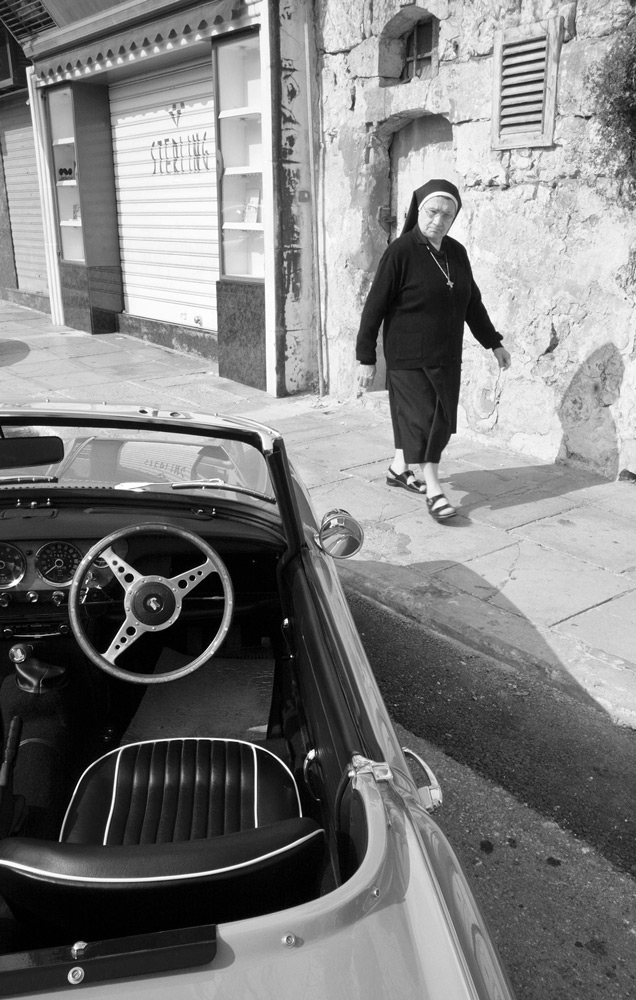 The Art of Printing
NOW, if your images never make an exit from the confines of your PC, then you are seriously missing out on a major aspect of our hobby. THE ART OF PRINTING, and it is an art. Yes, it's an indulgence and comes with expense, but it's a rewarding extravagance as it can improve your photography to no end. Don't let the criminal cost of ink cartridges put you off – work in high key minimalism with a vast area of negative space! Or print smaller and use a larger mount. Joking aside, an important plus point here – printing your own work can be advantageous when submitting work as a body for a distinction from either the PAGB awards system or through the RPS panel process.
You are in control, and only you can make the print look the way you want it to be seen. Printing brings with it a consistency of approach. This results in thinking beyond how something is displayed on a monitor, to how something looks in a cohesive and coordinate body of work. Making fine art prints requires a more emphatic degree of technical skill to allow for the refinement of your work, fuller knowledge of whichever software package you are using, and knowing which paper to use for the best 'feel' and look. The approach is somewhat different to working with DPI's. Processing an image to make a print from has some subtle differences to the way you might emphasis factors and elements for projection. Impact and instant appeal are less important than the sheer joy of creating a picture that is tactile and expressive, that can be proudly displayed in a frame at home or that other photographers from your peer group can linger over on an exhibition wall. It's much the same as having your work in a book; you can re-visit it in a far more pleasing way than just clicking on files lurking somewhere on your desktop. When everything in the world is digital and highly technical, printing a picture on paper, mounting it and sometimes placing it in a frame allows you to keep one foot in the analogue world that went before the advent of pixels and megabytes.
The hallmarks of a good printer are diligence, attention to personal interpretation and the artistic, creative feel of a finished print. Go to any photographic gallery and the prints will draw you in, you'll notice how stylised they are with individualism. Curiosity occurs. Those viewing the work on display are often 'in awe', yet intrigued and enquiring about techniques used to get the finish, the emotive 'feel' and the grace that framed photographs illustrate. It can be the ultimate goal for a photographer – complete understanding and control of how their work is portrayed and the immense satisfaction that brings. Each individual print is a polished performance, drawn from a raw unrefined beginning towards that final statement. Printing is addictive. Learning how to do that well with the best materials brings a sense of accomplishment and confidence. Some would consider the experience as a journey with pauses and stages, not forgetting bumps in the road along the way.
A photographic print is a thing of beauty. Ultimately it becomes a means of expression, a verification of your ability. Whatever, despite all that's gone on this last year, printing pictures is pure escapism and a decent way to while away all those 'spare' hours. I mean there's only so many times you can cut the grass – treating the fence to a coat of preservative lacks the creative edge, and wallpapering soon loses its appeal when tackling the stairs!