Landscape Photographer, Josh Brown, produces modern photographic prints which can purchased through his, website and at local craft events in East Anglia.
Tell us a bit about yourself and your style of photography.
My name is Josh Brown (JB). I am a landscape photographer based in Norwich, Norfolk. I primarily shoot my work in East Anglia but I have always taken the opportunity to shoot images on my travels to foreign locations. I'm fortunate to live an hour away from both the Norfolk and Suffolk coastlines. I always find myself returning to these locations due to the ever changing light and tides which throw up new challenges on each visit.
I run my own workshops in Norfolk and Suffolk, teaching both novice and intermediate photographers the skill sets required to improve their landscape photography with particular emphasis placed on the use of filters.
How did you get into photography?
After studying photography at both college and university I was lucky enough to gain some valuable experience working as a runner for various London based agencies shooting major car commercials. For those unfamiliar with the term runner, he or she is the person tasked with looking after the needs of the production crew; picking up pizzas and coffees at 2am in the morning etc. Through this early experience of watching professionals at the top of their game, I knew that I wanted to be the guy behind the camera taking the shot .
Why did you start printing and what inspires you?
I first began to appreciate the importance of printing through my father back in the 90's. He worked in the reprographics industry producing "high end' prints for galleries, artist and photographers. During the many visits to his studio, he instilled in me the importance of all the facets required to produce top quality prints, such as colour and grey balance, contrast, and definition. However, the main lesson I learnt was that you can be the best photographer or artist in the world but if the wrong choice is made when choosing inks and paper media, all the hard work in producing an image will have been in vain.
In terms of inspiration, I find myself inspired on a daily basis by the local landscapes we have available to us in the UK. Due to the lack of international travel in the past couple of years I have found that my love for locations such as Holkham and Southwold has certainly been elevated. Maybe staying closer to home isn't such a bad idea after all!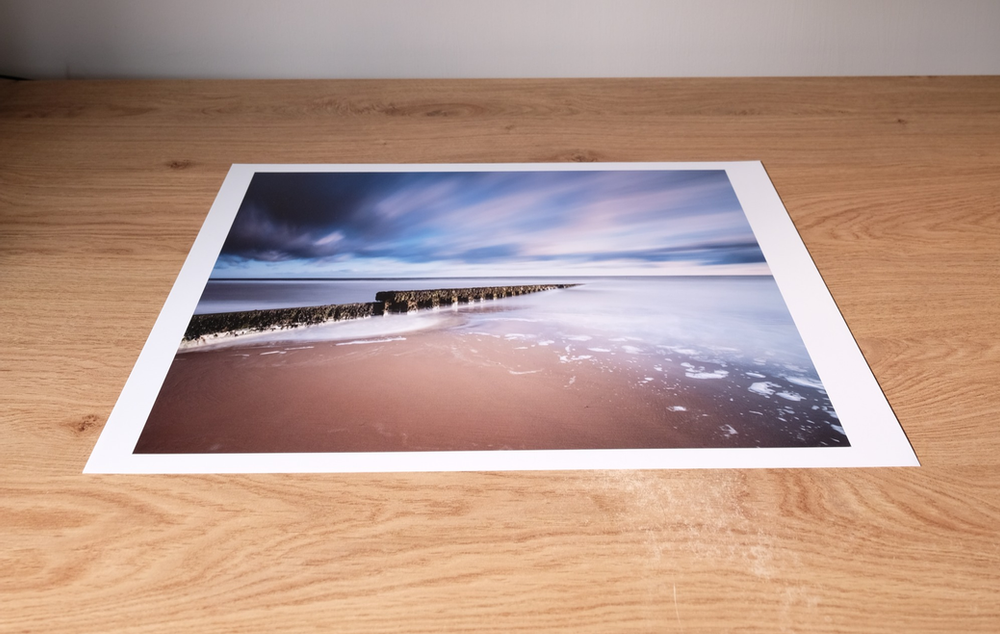 How does print elevate your work?
Print is major part of my business. I have an online print store, from where I sell landscape prints shot all over East Anglia and further afield. My prints are also sold in local shops such as the Horning Galley situated within the Norfolk Broads. Having access to PermaJet's wide selection of papers and knowing that the paper will always deliver the required quality certainly helps me fulfil the expectations of my customers.
Why is print important to you?
When I go out to shoot a new location the sole reason is to produce a piece of work which is worthy of printing. I just love the whole process from taking a shot on location to seeing it drop out of the printer. It is such a rewarding feeling to have physical piece of work in front of you at the end of the process!
What is your favourite paper and why?
I use PermaJet's Smooth Pearl 280 for the large majority of my work. I find that the colours on this paper just pop and the clarity is excellent. I also love the weight of the paper.
I have used this particular paper for exhibiting my work because the paper finish is superb and is an ideal medium for displaying under glass. I'm excited to print more work using PermaJet's Smooth Pearl for my upcoming craft markets this summer.
In addition to this, PermaJet products are extremely affordable and will give me guaranteed results every time I feed a sheet into my printer.
Find Josh:
Instagram – @joshbrownphotographer
Twitter – joshbrownphoto
Facebook – joshbrownphoto