All the media settings shown below are suggested as being the most suitable for the PermaJet paper surface in terms of the amount of ink being laid down by the printer.
Media names may vary slightly from model to model-choose the closest matching name. Choosing different media settings to the ones below may alter the quality of your final printed image.
If you are using an existing PermaJet ICC profile, you will find the required media setting contained within the profile name as an abbreviation and the data in this table may no longer be relevant.
Alternatively you can Download the PDF here. Remember, this table is not relevant when using an existing PermaJet profile as the media setting will be stated as an acronym in the profile's name.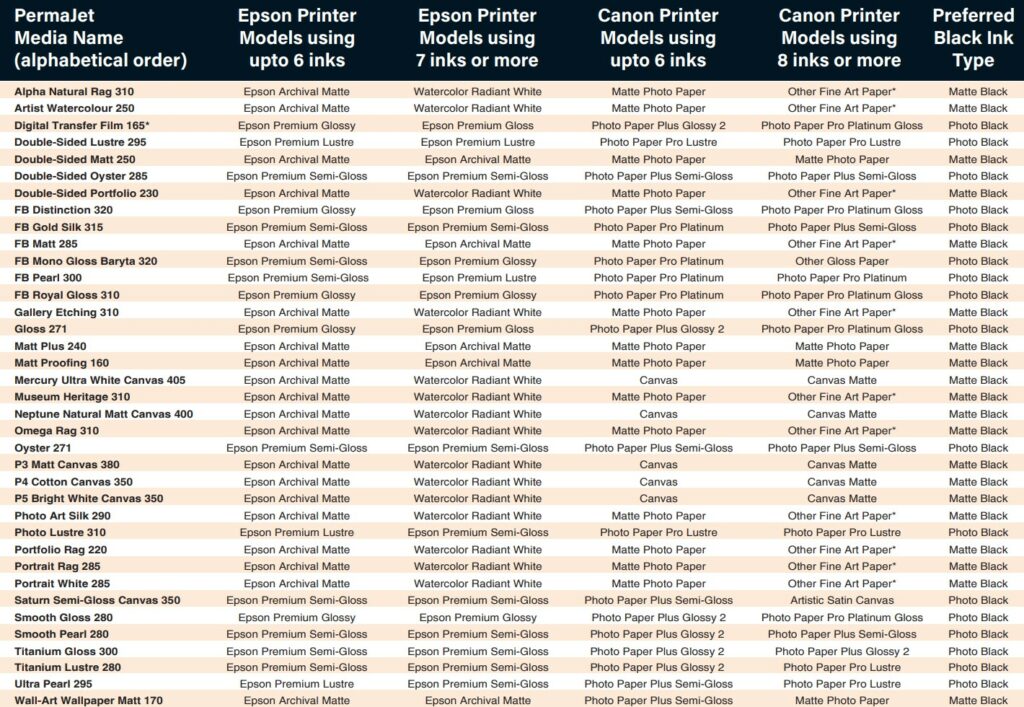 *Please note ICC profiles cannot be used with Digital Transfer Film as it isaclear based product. The recommended media settings should be used.
PermaJet have conducted extensive ink load tests with a variety of inkjet printers. The media settings outlined above are the optimum settings to use with the PermaJet range of papers. Please note that the suggested media settings outlined on Canon wide format printers do differ to the desktop series as the print heads are not identical.
*When using the Canon desktop range of printers in conjunction with the media setting OFAP (Other Fine Art Papers) it is worth noting that this setting imposes a print margin restriction and will crop your physical print. It is therefore important to be aware that when printing a target/ patch chart foracustom profile to be created, the MPP (Matt Photo Paper) media can be selected to overcome this issue when using all PermaJet fine art papers. However, for best results you should print the test patch as an A4 format (without scaling) on an A3 sheet using the suggested media OFAP setting.
All recommendations are for your guidance only. These settings are all derived from our own internal testing criteria and may be subject to change without prior notice. Visit our website regularly
to check for media settings of new papers not listed here or for any changes.