Custom ICC Profiles are important for anyone wanting to print 100% colour correct images, whilst avoiding the hassle of guesswork and wasted time, paper and ink. This is a free service for any of the PermaJet inkjet paper or canvas range.
To create a custom profile you will need to print a PermaJet profiling chart through the Adobe Color Printer Utility, both of which are provided in the download below with full instructions.
Please follow the instructions closely to ensure your profiling chart is printed correctly. Any inconsistencies may mean we cannot create the profile for you.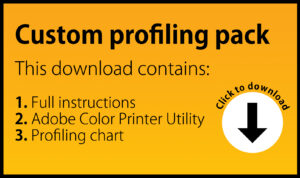 You can follow along the whole process in our video tutorials by clicking here.