We have received a batch of Photo Art Silk 290 paper from PermaJet to test and present to LEMAG readers.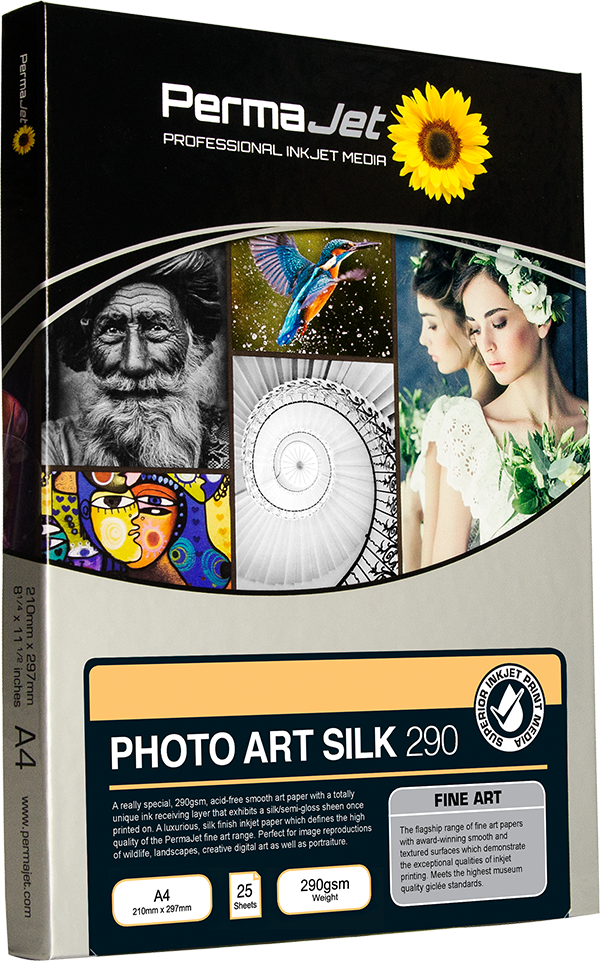 Before starting our tests we downloaded the ICC profile off the PermaJet website. After a few initial test prints we decided to print for this review a mixture of images ranging from long exposure, flowers and architecture, both in colour and monochrome. These are the same images we use testing other papers so as to have the best comparison platform.
All images were printed on Canon imagePROGRAF PRO-1000 printer using OEM inks. Our 27-inch Mac monitor was calibrated with @datacolur SpyderX Elite.
Paper Handling
PermaJet Photo Art Silk 290 is not a rigid as Museum Heritage 310. It is of course a bit thinner – being a semi-gloss paper it does not require the thickness of the other to render expected results.
Despite being a thinner paper it does feel very solid to the touch. Its silky sheen is immediately visible. The paper has a contemporary look to it and we felt sure that images we selected to test this paper would print well.
Colour Printing
The colour images we have selected provide a wide paper testing range for shadows, highlights, midtowns and deep blacks. In all colour printed images the white base worked well and we did not notice any saturation restrain.
Colour gamut is wide and both blacks and whites are strong with very good tonal definition. The silky sheen is indeed as rich as PermaJet claims it would be. It worked best on the images which are lighter, for instance of the image with small purple flower, the image of tulips, Venice canal image and Venice architecture. Our favourite is the image we present bottom of this page where the richness of both blacks and highlights has been displayed. Photo Art Silk 290 handled this image exceptionally well, which gives use assurance it will also be a great paper to print long exposure images, especially seascapes.
Monochrome Printing
We tested this paper on two very different monochrome images – one with very deep blacks and sharp highlights, almost burnt-out highlights and the other (of a field in the mist) lot more toned-down, with pronounced details and texture.
Both images came out as desired, showing all qualities of both images. Photo Art Silk 290 is excellent for monochrome printing, giving strong blacks and a wide tonal range with smooth gradations between tones. The paper proved to render shadows and blacks exceptionally well. So well that we printed a few more images on it, which we will present in our 'Talking Pictures' on our, YouTube channel.
Best for:
The white textured base works exceptionally very well for land and seascapes as well as for architectural shots. Wherever fine details make a significant contribution to the impact of the image (for example in the floral and Venice architecture shots) this paper gave outstanding results creating prints that are very pleasing to the eye.
Conclusion and Our Final Verdict:
Photo Art Silk 290 paper from PermaJet, tested on variety of very different images has yielded instant results with true-to-screen rendition. The smooth, silk semi-gloss finish is an excellent choice for those photographers who favour rich rendition of shadows and blacks while retaining the same qualities in the highlights. We think this is an excellent choice for those who want to exhibit their images in the best quality.
We recommend taking this paper into consideration when choosing one for printing, especially for landscapes, floral and long exposure images.