Caoimhe has a hons degree in Fine Art from Crawford College of Art and Design. She works mainly with photography, chaining photographs into her own surreal creations. She explores the themes of isolation and loneliness, creating new realms from her own creativity.
My first introduction to PermaJet was at the beginning of my art career, 10 years ago, during my photography class at Art College. This is where I learned the fundamentals of photography and explored just what photography could do and be. And probably one of the most important parts – how to translate what I captured to make printable art. My go-to was PermaJet and still is today, I only ever use PermaJet papers for my work.
My own practice has evolved a lot. I started with fine art photography, I love the way you capture a moment in time and freeze it forever. But I wanted to push these moments further into something that wasn't real that was unable to be captured naturally. I wanted to push the imagination of what photography could do.
For the last 3 years I have been working on mainly photomontage and collage, both digitally and analogue. I use elements of my photos to create something new and unique. I add surreal elements, things that wouldn't be seen together, to make the viewer look harder and question what they see. Some of my work is highly detailed so I needed a paper that can handle detail and strong colours, and that for me has always been PermaJet. I mainly use Photo Lustre, Matt Plus and Oyster.
Many of my digital collages consist of many layers, from 10 up to 100+. I love to use rich and contrasting colours. Many have a lot of little details so I need a paper that can handle all those elements and PermaJet does all of those things. When I am creating limited edition prints or exhibiting my work, paper consistency is imperative and I can never fault PermaJet, each batch of paper allows for the same consistent results.
I have created a new piece for Spring that has all the elements of life, consisting of over 60 layers. I wanted it to burst full of life and colour, but also having the depth of richness.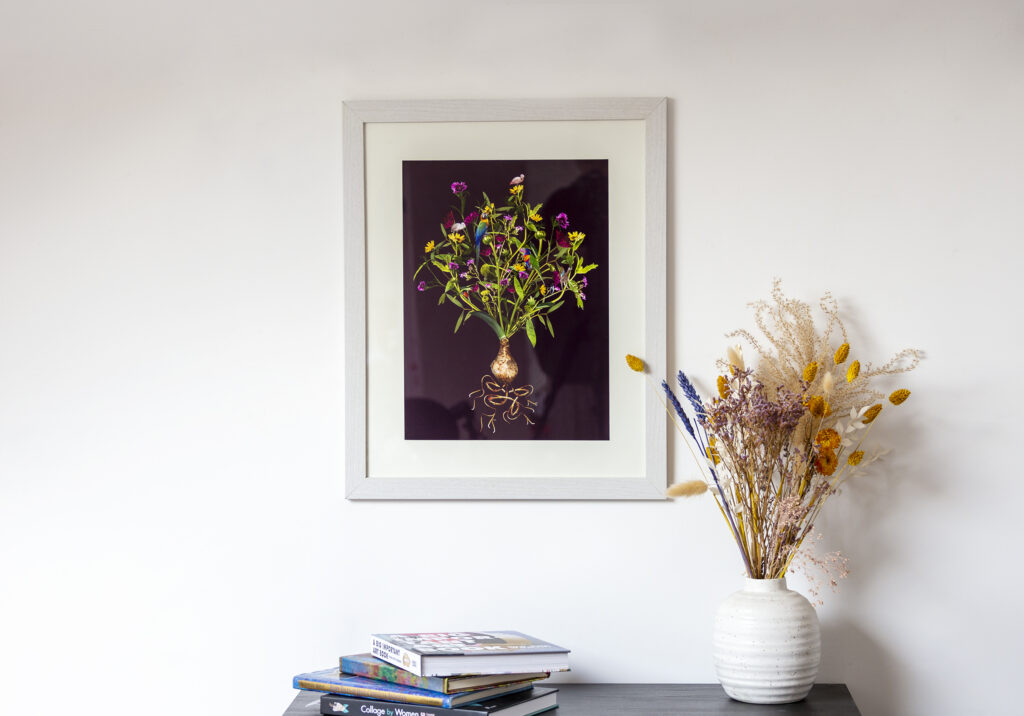 I chose Photo Lustre for my layered images as the lustre finish is subtle but gives real depth. I really wanted my image to aid in the surrealism of the piece and the definition of this paper is exactly what I look for. The tonal range that you can get with this paper is amazing, you still see details in the shadows while not dimming your highlights. The piece I created has a warm rich background but the subject has so many colours and a lot of vibrancy and the paper captures this exactly the way I wanted.
It is also important to me that when I sell my prints that my customers are getting a high-quality product. PermaJet's Photo Lustre is a firm, thick paper which is important for framing so the print hold ups for years after. I know when I sell my prints that my customers are getting a high quality product.
Photo Lustre is not the only paper I love, I also use PermaJet's Matt Plus a lot for my work. I have started to use this for my hand-cut collages that I put together and physically layer them so it is not just a flat collage. This paper is great as it holds the colours and the saturation pops. It is also thick enough to keep its shape and curve to create dimension.
I am part of an art collective, called Nua Collective, that started during the pandemic. Through this group, I have exhibited in private galleries and many online exhibitions in which my work can be bought on PermaJet paper. You can see more of my works on my website, social channels and on Nua Collective's website.