The Canon range of professional desktop printers offer superb print quality in combination with PermaJet media. But which is right for you?
How many cartridges

One of the main things to consider is the amount of inks the printer has. The more inks, the better colour accuracy and depth your prints will achieve. When you start venturing into the higher end printer models with 10 or more inks, you will see there is a Matte Black (MK) and Photo Black (PK) ink. The printer automatically swaps between these depending on the kind of paper you are using, resulting in richer blacks on matt paper. This is highly recommended if you're producing fine art prints and want the best results possible.
Dye or pigment ink
Another thing you should consider when choosing your printer is whether it has dye or pigment inks; this is most important for those who are looking to produce archival work with better print longevity. The comparison below details the benefits of each ink type.
DYE BASED INK
Liquid dye that absorbs into the paper fibres
Resists fading for 25 to 30 years
More saturated colours, better colour range and denser blacks
Lower costs
Can be susceptible to smudging and fading
Better suited to gloss surfaces
Perfect for…
Smaller budgets
Prints where longevity is not as important
PIGMENT BASED INK
Solid pigment particles that sit on the paper and bond with the fibres
Resistant to external influences such as water, environmental gases and UV rays
Higher colour stability and print longevity with the potential to resist fading for up to 200 years
Perfect for…
Archival fine art and professional printing
Prints that will see a lot of handling or sunlight
Canon PIXMA iP8750
Maximum sheet size A3+
6 dye inks (PGBK/BK/C/M/Y/GY)
Produce stunning prints up to an impressive size of A3+ with this excellently priced entry-level photo printer.
The 6-dye based ink cartridges includes a grey ink that enables richer colour photos; while the FINE printhead technology delivers up to 9600dpi resolution for exceptional detail and photo-quality results. The PIXMA iP8750 is ideal for photo enthusiasts and small studios who need to print high quality images with shorter term display in mind. If you print a lot of monochrome work we would recommend upgrading to one of the higher end printers with more inks, but for day-to-day prints this is an excellent printer.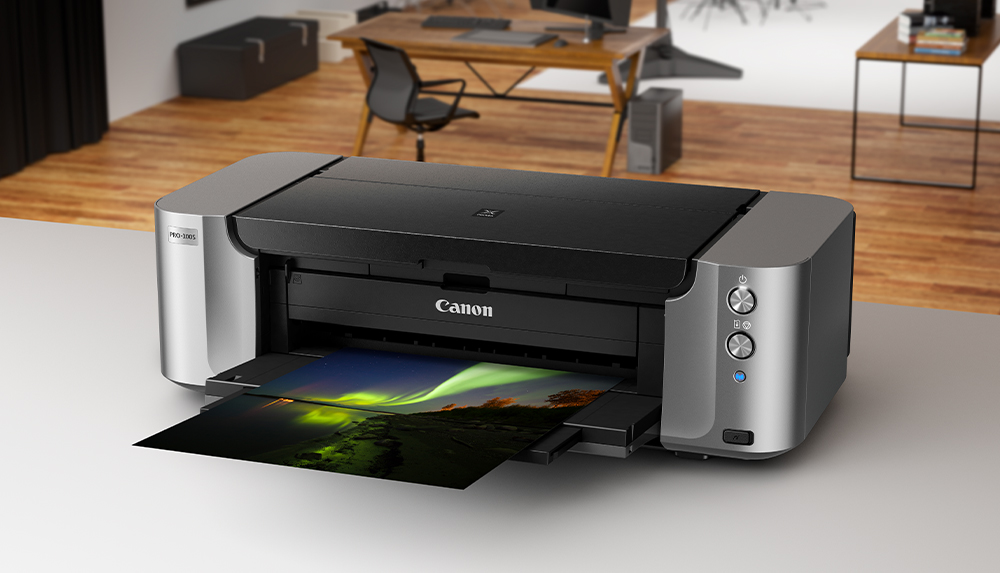 Canon PIXMA PRO-100S
Maximum sheet size A3+
8 dye inks (BK/GY/LGY/C/M/Y/PC/PM)
The next step up is the Canon PIXMA PRO-100S, a high-performance printer that produces professional quality photos up to A3+.
This Chromalife 8-ink dye based system produces vibrant colour photos on a range of media up to 350gsm, including both matt and gloss photo papers. The Chromalife 100+ ensures enhanced colour reproduction and improved permanence. Expect exceptional detail and photo quality results at speed.
Canon PIXMA PRO10S
Maximum sheet size A3+
10 pigment inks (PBK/MBK/GY/C/M/Y/PC/PM/R/CO)
The Canon PIXMA PRO 10S is a high-performance A3+ printer that produces outstanding professional prints in colour and monochrome.
The 10-ink pigment-based system enables you to produce prints that are resistant to fading and ideal for gallery quality Giclée prints. The inclusion of Photo Black and Matte Black inks allow for the best possible results on matt fine art media, whilst the Chroma Optimizer reduces bronzing. Whether you're a general home user, a budding amateur photographer or an experienced professional, the Canon PIXMA Pro 10S is excellent for all occasions.
NEW Canon imagePROGRAF PRO-300
Maximum sheet size A3+
10 pigment inks (PBK/MBK/GY/C/M/Y/PC/PM/R/CO)
New for 2020! Take your printing to a brand new level with this beautifully compact professional A3+ printer that has all the advantages and qualities of the imagePROGRAF PRO professional range, rewarding you with rich, vibrant and exquisite gallery quality prints. A series of newly introduced features make this printer hard to beat in all aspects of quality, price and performance.
The 10-ink pigment-based system enables you to produce prints onto a variety of media finishes including gloss, matt and fine art papers that are resistant to fading and ideal for display or archival purposes. This printer is optimised for fine art Giclée printing with it's newly introduced Baryta paper options and borderless feed tray for any print size, plus the improved Matte Black ink that prints deeper blacks than ever before.
New Features:
15% smaller footprint than the PRO-10S
Achieve much deeper blacks on fine art matt paper
Borderless printing in all print modes
Nozzle Misfire Detection switches to backup nozzles when a nozzle is not firing correctly to ensure there is no banding
Paper Skew Correction detects skewing and corrects it
Ink Tank Density Checking periodically shakes the cartridges to maintain constant ink density levels – ensuring colours are always consistent
Enhanced colour gamut for greater depth
,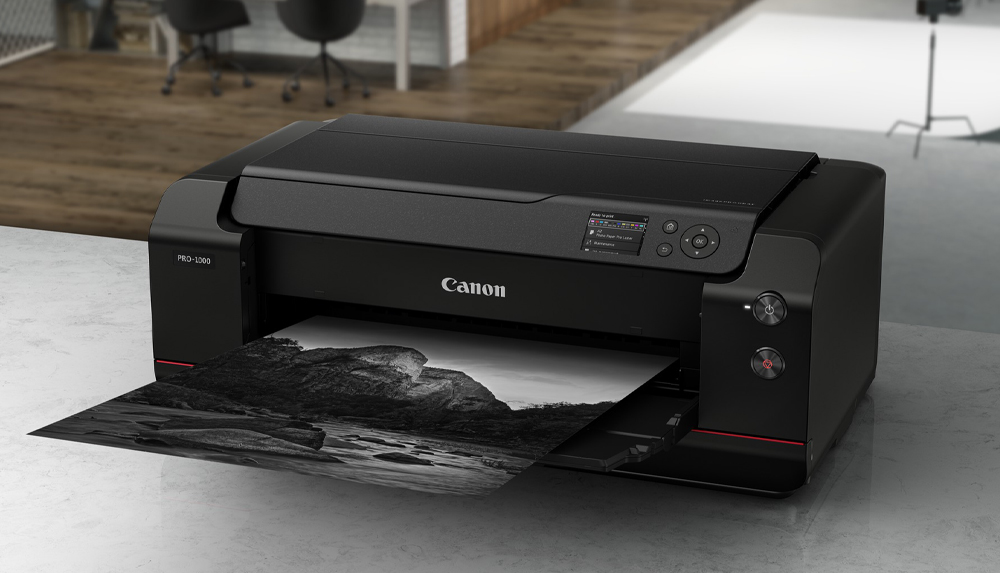 Canon imagePROGRAF PRO-1000
Maximum sheet size A2
12 pigment inks (MBK/PBK/C/M/Y/PC/PM/GY/PGY/R/B/CO)
The PRO-1000 is the best printer you can get in the Canon desktop range, and technically considered part of the large format professional printers.
Small enough for the home studios, schools and small design environments, the Canon PRO-1000 offers exceptional print quality using its 12-colour LUCIA PRO ink system, yielding a superb level of colour, sharpness, detail and expanded colour gamut. Monochrome printing is enhanced by the Matte Black, Black, Gray & Photo Gray inks offering superior grayscales and increased black density. Like the rest of the PRO-series range, expect faster printing with more accuracy than ever before as well as reliability from the same ink colour set and printhead.
Need further advice on which printer is best for you? Give PermaJet a call on 01789 739200.