What's the difference between gloss and matt photo paper?
Gloss, semi-gloss and matt are the standard paper surfaces. They're available in a variety of finishes which alter the overall look and feel of your print, enhancing different qualities of an image.
Gloss Photo Papers have a reflective surface designed to make photos look sharp and vibrant. The shiny coating brings life and clarity to an image and makes colours pop. Glossy papers often suit vibrant, modern images such as studio portraits or colourful product photography.
Matt Photo Papers have a glare-free surface and are most popular for fine art images. Colours are more muted with less contrast than gloss papers, but the non-reflective surface gives an extra sense of depth and is easier to view in all lighting conditions.
Lustre/Semi-Gloss Photo Papers are the midway point to gloss and matt, often available in lustre, satin, or pearl finishes. These papers are a great choice for those looking for the clarity and vibrancy of a glossy paper with the depth of a matt paper.
What are the best glossy photo papers?
We have a wide selection of gloss inkjet papers available. Each paper has unique features that will bring out the different qualities of an image, depending on how you want the end result to look.
Our gloss inkjet photo papers are available in the following sheet sizes: 6" x 4", 7" x 5", 10" x 8", A4, A3, A3+, A2 and roll sizes from 13" to 60". All available with FREE Next Day Delivery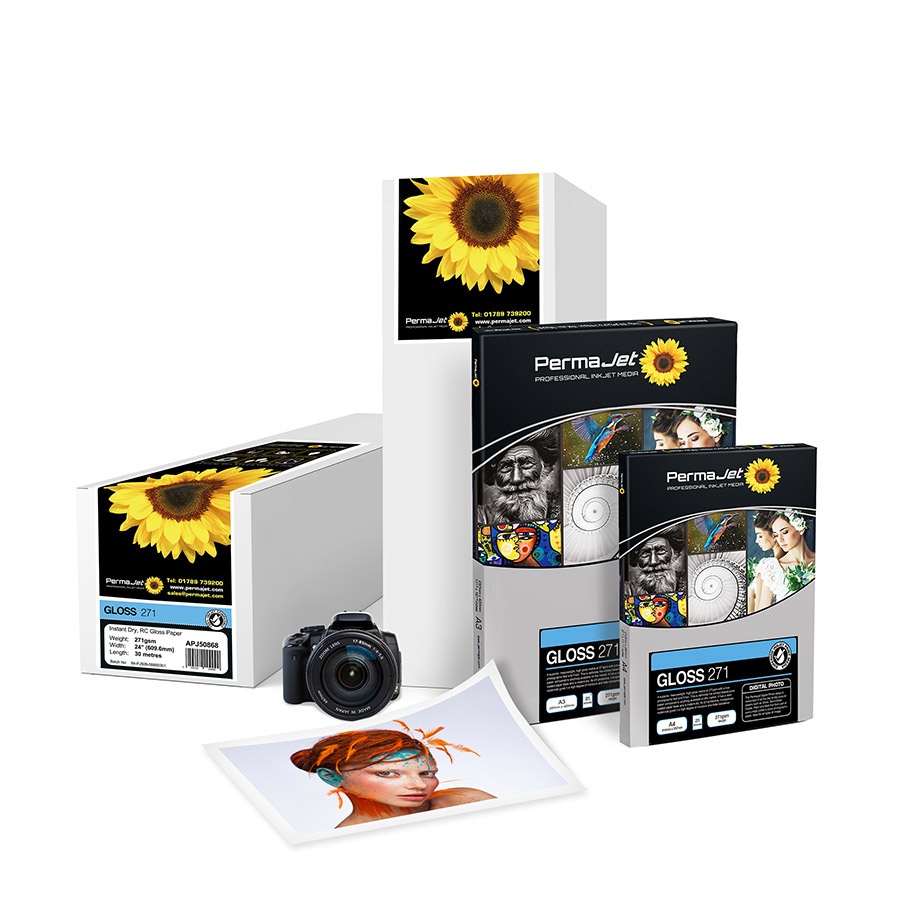 Gloss 271
A high-gloss, resin coated paper with a bright white base
Suited to everyday photos, vibrant advertising work, studio prints and more
The bright white base and stunning gloss surface makes images pop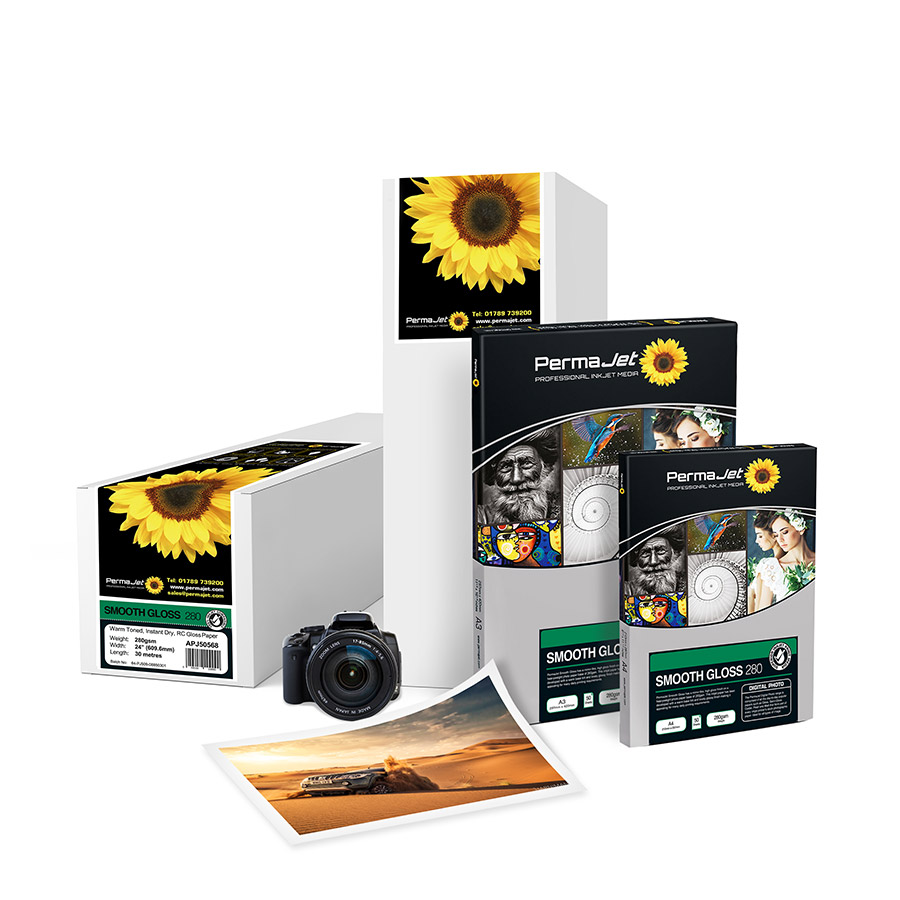 Smooth Gloss 280
A high-gloss, resin coated paper with a warm base tint
Suited to high-definition colour and monochrome work, warm images and more
The mirror like surface gives images a high-quality, commercial feel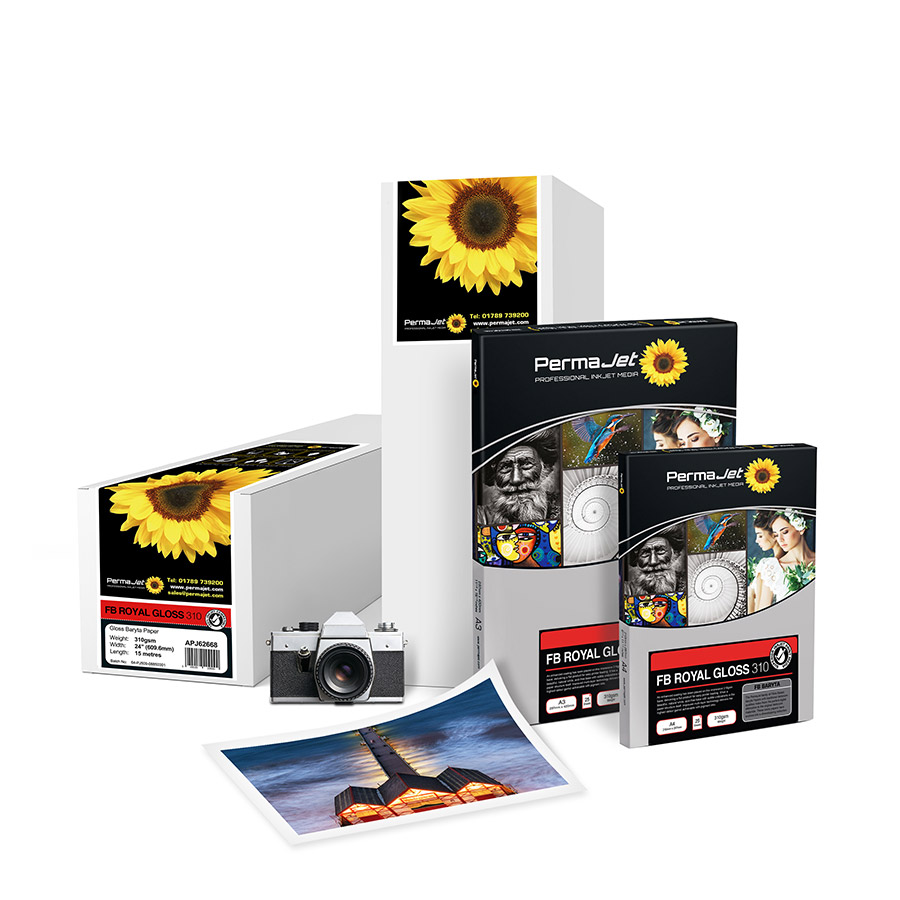 FB Royal Gloss 310
A subtle gloss, fibre-based paper with a natural white base
Suited to exhibitions and fine art work, particularly monochromes
The subtle undulated surface gives images a lovely, darkroom quality finish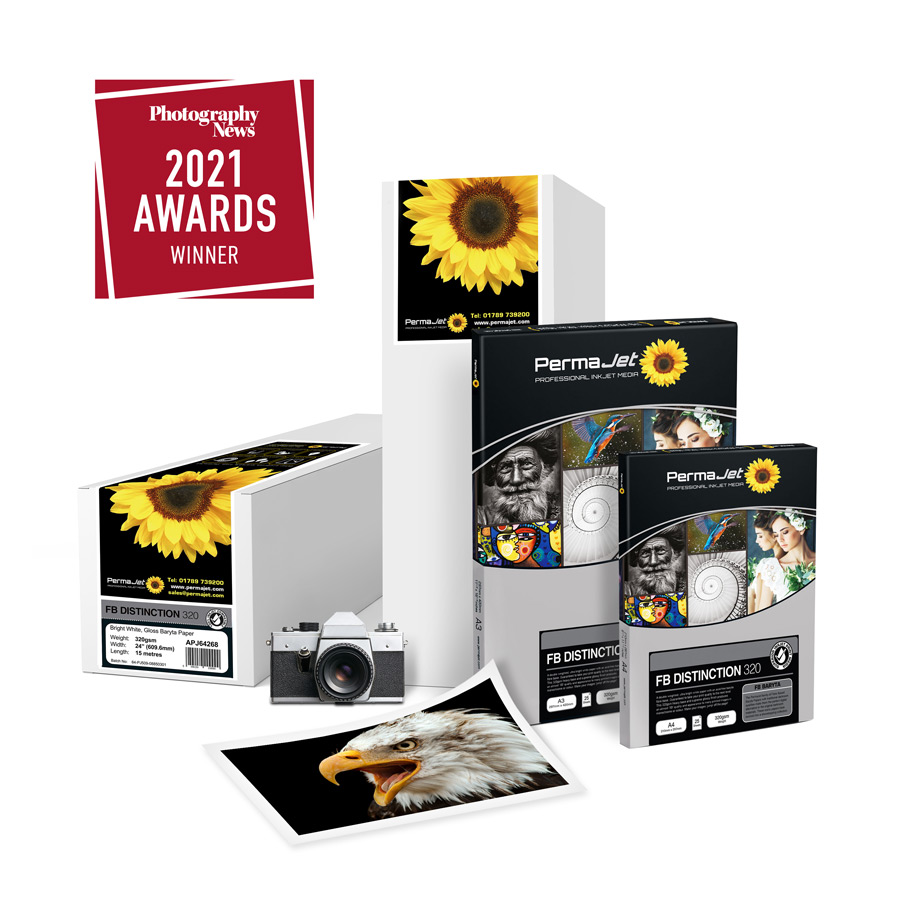 FB Distinction 320
Winner of Photography News Best Inkjet Media 2021
A subtle gloss, fibre-based paper with a bright white base
Suited to punchy, high contrast images with high detail and deep blacks
The stark white base enhances images and creates impact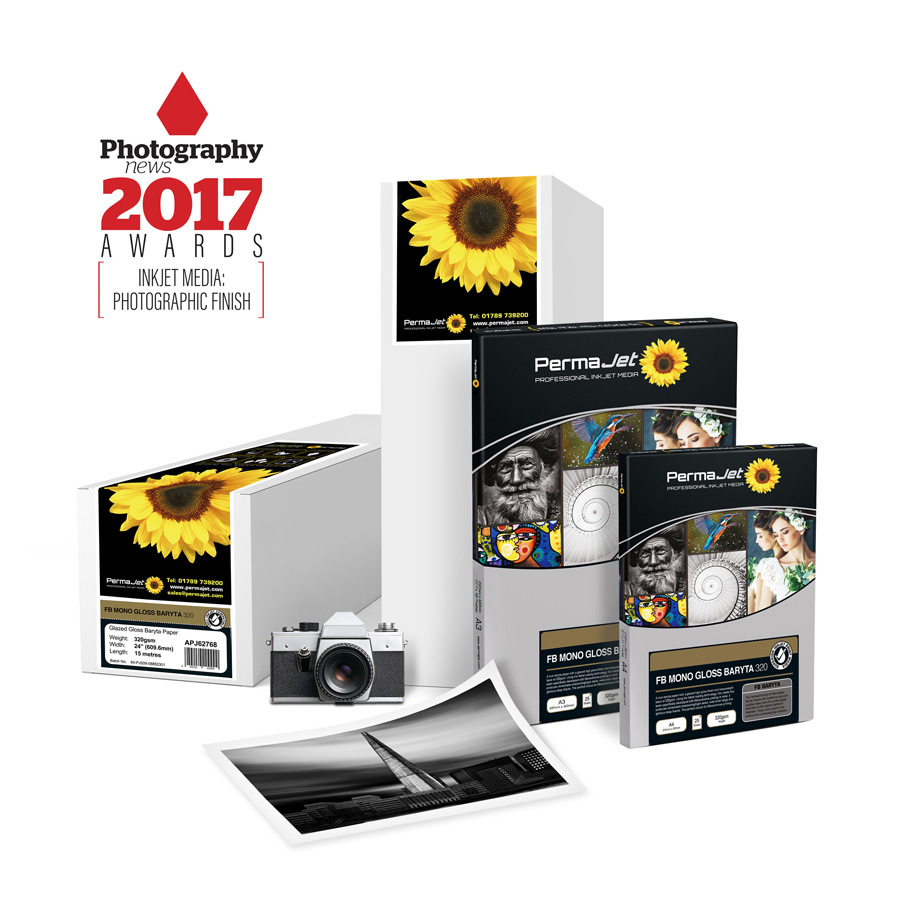 FB Mono Gloss Baryta 320
Winner of Photography News Best Inkjet Media 2017
A glazed gloss, fibre-based paper with a warm white base
Suited to high contrast monochromes with rich blacks and creamy whites, or images with vibrant, saturated colours
The high Dmax produces prints with sumptuous, deep blacks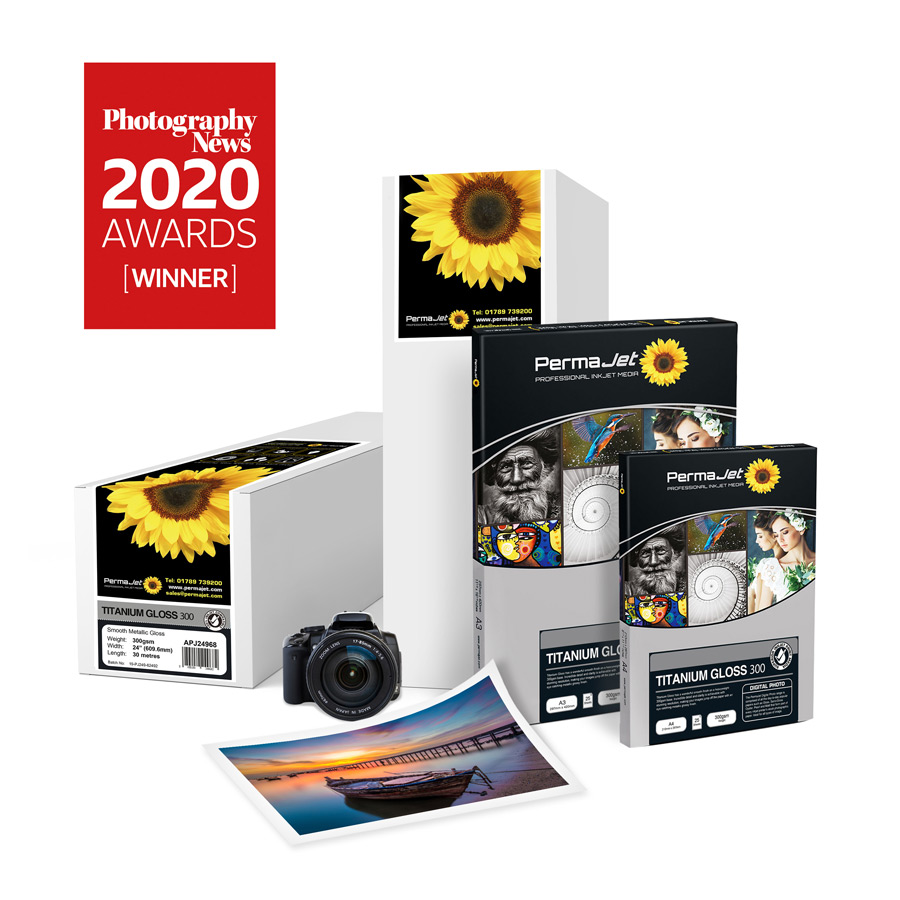 Titanium Gloss 300
Winner of Photography News Best Inkjet Media 2020
A high-gloss, resin coated paper with a unique metallic base
Suited to images with water or metal subjects, snow, and vivid colours
The silvery metallic base gives images an eye-catching, creative finish
What is the best gloss paper to print professional photos?
Depending on the genre and style of your images, gloss paper can be a great choice for professional photos. The most important factor for producing professional prints is ensuring you use high quality inkjet paper and a 6+ ink desktop printer, like the ones in the Canon professional desktop range. If you are looking for archival qualities and long-lasting prints, you will want to explore the Fibre Based paper options.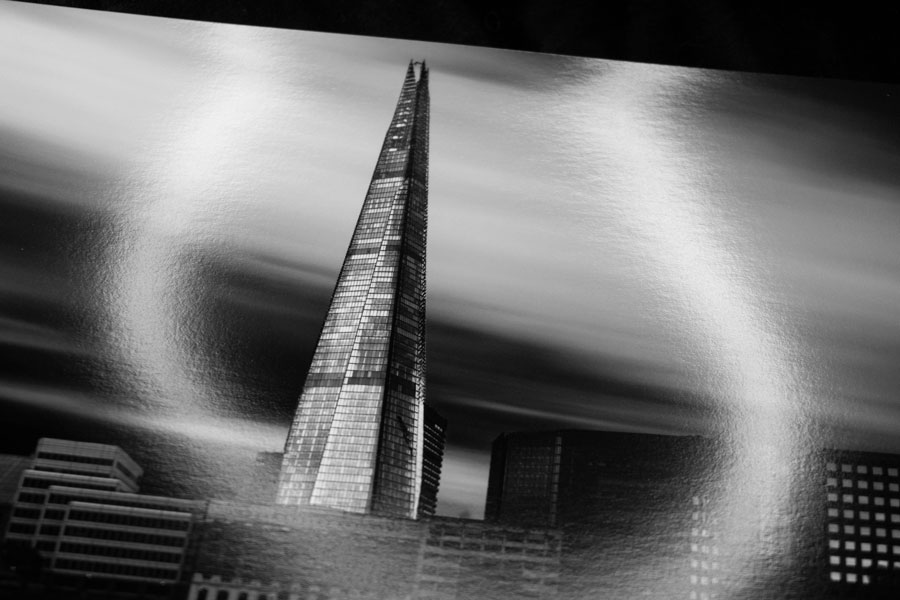 Where can I buy glossy photo papers?
PermaJet stock a full range of photo papers from 6" x 4" to A2 and a variety of roll sizes – view our entire range of gloss inkjet papers. You can also find many of them at your local photo stores.
Matte vs Glossy Inkjet Paper
Although the difference between these prints is subtle at first glance, when you look at the close-ups you will see the benefits of using a gloss paper vs a matt paper for a vibrant image like this. Comparing the shadows under the berries and between the ice cream cones on the matt (left) and gloss (right) prints, you will see the difference in the density of blacks and level of contrast. The gloss surface benefits subjects like food, as it adds a more lifelike, juicy quality to the fruit and a lustrous shine to the ice cream. Whilst the Matt Plus paper looks great on its own, it's these subtle differences that can really bring an image to life.
Matt Plus 240 vs FB Distinction 320
Need help choosing which Gloss Inkjet Paper? Get in Touch
If you are confused by the options for which glossy inkjet photo paper might be right for you feel free to get in touch!