Get all the information you need to decide between an Inkjet or Laser printer in this detailed guide to the two most common printer technologies.
You probably regularly browse the internet trying to find that all-important printer equipment to produce your treasured images but see two words cropping up constantly: laser & inkjet.
These are undoubtedly two of the most common and popular printer technologies for producing images and documents from digital files at home. However, there are some fundamental differences determining the way they work and the results from them which should be clear to you before you invest your hard-earned cash.
History
Although both types of printers have been around since the mid 1970's, it was the laser technology which leapt ahead in the market with inkjet printers only really getting a foothold in the home and office market during the late 1990's and early 2000's. However, early laser printers were very much aimed at businesses, and it wasn't until many years later that affordable units were developed for the home. The public warmed to inkjet printers much faster as they coincided with the advent of digital cameras and were a means of outputting image files on paper in an affordable way at home.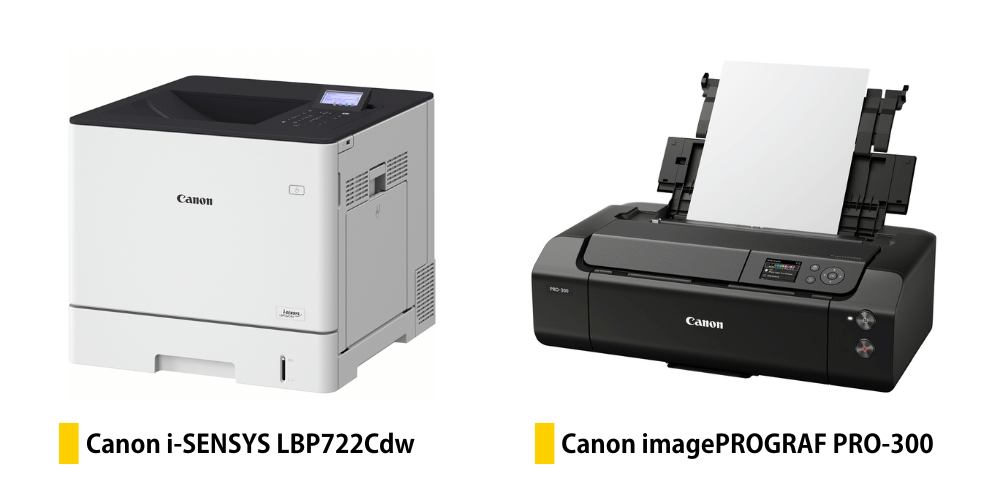 Inkjet Printers or Laser Printers: the differences
It's important to fully understand how both technologies of laser and inkjet printers differ, what costs are involved for each print and what kind of investment in equipment brings the best results. In a brief summary, you can take the following points into account when making your choice:
Performance
Laser printers, by their very nature, work fast, producing consistent and quality text documents time after time. You have the choice of either full colour or monochrome lasers both working at much faster speeds than a typical inkjet printer. However, when it comes to photos, the inkjet is a tough piece of equipment to beat. With better colour range and more paper options, this could be a key factor in your decision.
Cost Differences
When it comes to cost of the units, inkjet printers are certainly cheaper to buy. With inkjet printer for lower volume users as low as £39.00, you might well be tempted to get one today. However, check the ink cartridge costs first. The choice of inkjet printer models is huge, and it usually follows that "The cheaper the inkjet printer, the more it costs to put ink in it."
Laser printers can usually produce documents and prints at a lower cost than inkjet. The much larger capacity of "dry ink" toner cartridges of a laser printer has the ability to produce many thousands of basic documents and could avoid the potential problems associated with out-of-date cartridge inks.
Size & Style
Inkjet printers are available from many popular brands such as Canon, Epson, Brother & HP and in a wide choice of prices, each one offering different print sizes, features, and benefits. Common sizes are A4, A3+ (Super A3) and A2 for popular home and business desktop models.
Inkjet printers are usually built to blend in with your home. They are generally smaller pieces of equipment which are more aesthetically pleasing to the eye – to the point that you can even watch the paper passing through the printer whilst it makes the image on your chosen paper.
In addition to that, many smaller inkjet printers are built with scanner hoods and copy-to-print facilities as well as being able to accept SD memory cards.
A laser printer is a type of printer that uses laser technology to produce printed documents and images. It works by using a laser beam to create an electrostatic image on a photosensitive drum or belt. The drum or belt is then coated with toner, a fine powder, which sticks to the areas with the electrostatic charge. The toner is then transferred onto the paper and fused onto it using heat and pressure, resulting in a permanent image.
Laser printers are known for their fast printing speeds and sharp text making them popular in both home and office environments. They are commonly used for printing documents, reports and flyers. Laser printers have a smaller colour gamut than an inkjet photo printer however, can be more cost-efficient in the long run when high-volume printing tasks.
A Deeper Dive Into The Technology Differences Between Laser & Inkjet
Both types of printers were never really meant to do the same job. Owing to its origins, laser was very much targeted towards the reproduction of documents taking full advantage of its speed and ability to take a tray stacked full of copy paper and "just let it get on with the job".
Inkjet was always destined to be the master of reproducing images at the very best quality.
In essence, choosing between the two should be straightforward as its going to come down to your understanding of your needs and requirements once we have explained their technical pros and cons…
Inkjet Printers, whichever brand, all use electronic print heads to extrude microscopic droplets of liquid ink onto a paper's surface. The number of nozzles in different levels of inkjet printer can vary and are usually determined by a measurement referred to as DPI (dots per inch). DPI can be as low or as high as you want, but it all becomes important as to how far from the finished print you are when viewing with the human eye. Lower quality can be used when viewing from far away, but higher DPI is need when viewing close-up otherwise you will see the actual dots of ink that make up the image itself. Many modern inkjet printers start at 72dpi and can be set to go right up to 5760dpi.
Modern Inkjet Printers use two common types of ink: dye & pigment. Dye inks are traditionally used for shorter term images and documents and pigment inks are more suited for much longer-lasting archival images and commercial reproductions where images are being sold.
Laser Printers don't use liquids – it uses a dry powder. A fusion process takes place where a drum is "lasered" with static electricity in the form of your image/text to attract the powder to its cylinder. As the drum rotates, the powder forms your image by being applied to the paper surface. Finally, the paper passes through fuser rollers which work at high temperature and the melted toner adheres to the paper to create a permanent image.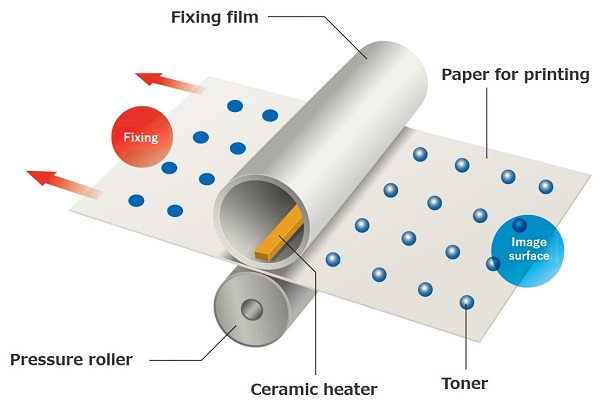 Generally, home laser printers are only practical in A4 size only as the equipment becomes very large and bulky with all these rollers and drums as well as a stackable paper tray. Businesses might use larger floor standing laser printers for office environments.
Comparing a Canon Inkjet v Canon Laser Printer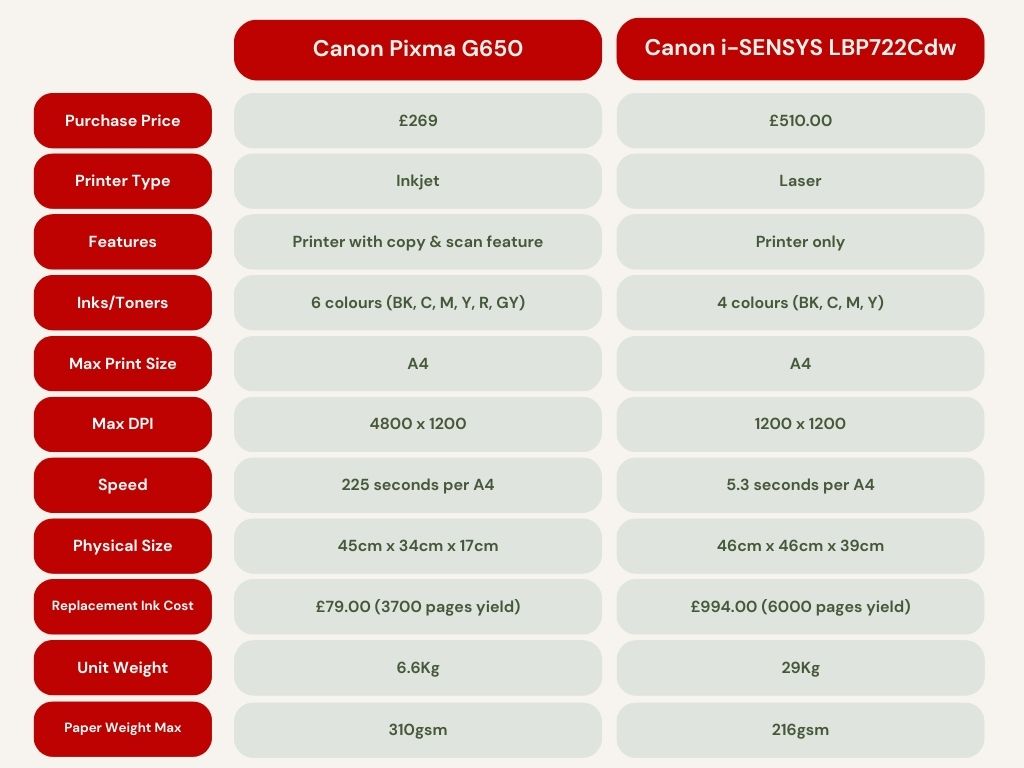 The Investment Costs
Whenever you buy a product, the cost nearly always plays a major part in your decision. So, firstly, assess your true needs or desires in a printer's functionality and then see if there is one which fits the budget.
With Inkjet Printers starting at just £39.00 upwards, it would be a mistake to not check if there is anything offering all the features you are seeking. As we mentioned though, always check the replacement ink cartridge costs as sometimes, inks can be more expensive than a new printer itself. The more expensive the inkjet printer, the ink usually becomes cheaper.
For example, on a Canon Pixma Pro 200, the CLi-65 inks are available from our Premier-Ink website at a cost of £18.49 per 12.6ml equating to £1.47 per ml. If you buy the Canon ImagePROGRAF 1000 A2 Printer inks, they are £49.99 per 80ml which is just 62.5 pence per ml.
In the inkjet world, there is always a choice of compatible inks as an even cheaper option. Some even offer refillable ink tanks (like the Canon Pixma G650 in our comparison table) which ensures you are getting the very best results at the lowest and most economical cost.
Laser Printers can initially be an expensive investment. For monochrome (black and white) versions only, you may pay anything from £150.00 upwards. Colour lasers run into many hundreds of pounds even in just the A4 size. Again, consider the costs of toners – many models may offer compatible brands of replacement toner which can be cost effective although may produce lower volumes than original manufacturers' toners.
The Print Quality
As mentioned, inkjet printers use liquid inks in cartridges which, with correct settings on your software, can reproduce prints to the same standard as a commercial print lab.
Inkjet Printers have a minimum of 4 inks but usually 6, 8, 10 or 12 ink printers exist in cost effective photo printers, and you can use all the available ink colours to create tones and shades of detail which a laser printer just cannot produce with only four toner colours. Mixing micro-droplets of ink to such levels of DPI makes imagery on inkjet jump off the page. Ink sits on the paper surfaces with more punch and saturation.
Textual documents and letters may look no different but if good quality photographs are your goal, then inkjet printers have the advantage.
Laser printers can print sharp, crisp text documents and are not likely to smear as you are possibly not waiting for ink to dry – the laser process fixes the toner instantly as "touch-dry" straight out of the printer. With only four toner colours in action, the appearance of the finished photos may seem a little flat and lacking in shadow details and general saturation.
Paper choices can also be a decider. Laser printers typically love lighter weight media. Papers from 70gsm to 150gsm can generally be loaded in the paper cassette in a stack and run as long print jobs. The downside is that the variance of surfaces available to use trouble-free is very limited. Heavier papers tend to get jammed in the feed mechanism because it is too thick, or the feeder mechanisms cannot "get a grip" on the leading edge of the paper to take it through the rollers leading to a paper jam error.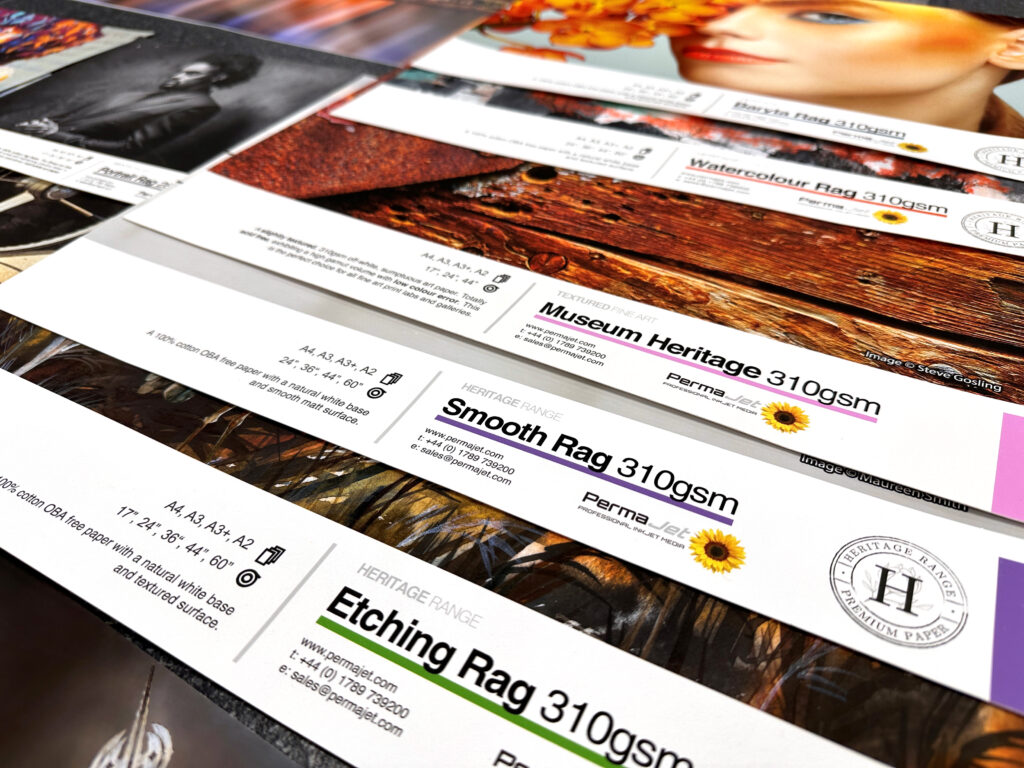 In the world of inkjet paper, the choices are astounding. In PermaJet's vast range alone, there are 38 paper and canvas media offerings, many of which can be used in virtually any inkjet printer model with the correct settings and drivers installed. PermaJet offers help and advice on your printer choice for this reason, ensuring that you don't get frustrated feeding heavy grade fine art papers and canvases through your new equipment.
Being able to choose from the likes of smooth and textured Fine Art Inkjet Papers, Baryta Fibre Based Inkjet Papers, Inkjet Canvas media or simply everyday Digital Photo Inkjet Papers means that there is a paper type and surface for every occasion.
How much will my prints really cost?
Measuring true costs of prints produced on inkjet and lasers is very difficult and the cost quoted in many technical reviews and specifications have to use a best "guestimate".
In the print industry, the cost is usually based upon 5% ink coverage which is typically a basic document with a single small colour graphic and a few lines of text on A4 plain paper. Unfortunately, a true photo print may use as much as 90% ink coverage but for most costing purposes, a 60% coverage will cover most prints you do over the printer's lifetime.
Typically, an average 60% coverage on a Canon Pro 300 Printer will use around 0.6ml in total per A4 image when set at highest quality photo settings (1440dpi).
This allows us to create a basic formula of calculation where you add up the cost of all the inks in your printer, which in this case is £169.00, then divide it by the total inks volume which is 141ml giving a cost of £1.20 per ml. This means 60% coverage (0.6ml) equates to a final photo ink cost of 72 pence per A4 image.
This same formula can be applied to any inkjet printer to work out your estimated running costs.
Using a refillable inkjet system such as the Canon Pixma G650, can keep running costs even lower.
Laser toners normally come with toner cartridges which give estimated page yields. Many of these figures will show as thousands of prints being possible but the initial cost of that toner cartridge is usually much higher than a set of inkjet cartridges. Despite that, cost per print when doing multiples of the same single colour documents will work out much cheaper than inkjet printing.
Full colour documents on a laser printer will work out expensive and potentially disappointing in the colour rendering and detail when you are trying to print colour photographs.
The Features
We have mentioned the size of prints a few times here, but critically, that may well be your decision made for you. With inkjet printers being offered in a choice of print sizes from A4 up to A2 which you can do at home yourself, the equipment investment becomes very attractive.
Physically, inkjet printers are smaller and more compact fitting nicely on your office desk or worktop. On the other hand, laser printers can be bulky and more industrial looking in their appearance.
If space is of great concern to you, then an inkjet printer may well be the better investment based upon the finished print size that it can achieve.
Some inkjet printers will be able to print directly onto DVD's, stickers, or smaller greeting card media like 6" x 4" and 7" x 5" whereas laser printers can't really handle this specialist media.
The Laser Printer wins the printing speed challenge by a mile however, bear in mind that the inkjet printer goes more slowly to achieve higher quality.
The final decision
Well, the decision is yours. It all boils down to what is really needed. Large photo prints or repeat text documents and letters on lighter weight paper.
Printing photos for friends and family on a laser printer might be just fine but for commercial purposes, it would not be an option.
Laser makes sense for people wanting to do sporadic printing at home but not want the bother of having to choose a paper or surface – just get the print off the screen onto some paper in the most cost-effective manner.
Inkjet printers, although slower and slightly more costly to run, open up your world to a vast choice of paper bases and finishes in various sizes as well as being able to create stunning results every time, whether that is in monochrome or colour.
If you are unsure of what model of printer to buy next or even what paper to use for your images, call the PermaJet team on 01789 739200 for free advice and guidance or visit www.permajet.com.