PermaJet launch new range of Fine Art Inkjet Media utilizing the world's most advanced paper surfaces and coating technology.
Fifteen years after introducing their incredibly popular Fine Art range to industry success, PermaJet has adopted new technology to enhance the range for exceptionally high quality prints produced with modern printers and inks. Following an eighteen month period of thorough market research, customer feedback and product development, PermaJet have refined their Smooth and Textured Fine Art papers to ensure they meet your current and future printing needs.
View the Textured Fine Art range here and the Smooth Fine Art range here.
The new range comprises five enhanced products, which join some of the classic best-selling media in the World.
Utilizing new coating technology processes and enhanced base materials, PermaJet have created a range of products that will deliver images of the highest quality. The superior coating, combined with modern ink technology ensures you get some of the highest Dmax ratings in the world today.
These iconic Fine Art papers have now evolved into a show stopping collection which is all available in advanced 15 metre length rolls and all sheet formats.
PermaJet have managed to widen the range they offer the customer while reducing the confusion and making a much clearer division between the products they offer.
10 SHEET BOXES
PermaJet have also launched an exclusive NEW 10 SHEET PACK across each new product in this upgraded Fine Art range which provides incredible value for those working on smaller print runs that are after the same exhibition quality product.
---
SMOOTH FINE ART
Two enhanced products now join the four popular classics in the smooth fine art collection of papers.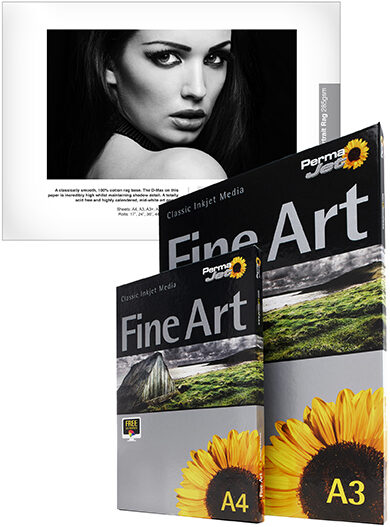 NEW – Portrait Rag 285gsm
A classic from the PermaJet range that retains its 100% cotton base and subtle texture while making it marginally lighter at 285gsm. This product is acid-free and meets the highest digital art standards.
Certified by an independent UKAS Laboratory this material, like many PermaJet products, exceeds the Fine Art Trade Guild's archival standards and is ideal for Art and Photo reproductions.
Smooth skin tones and image sharpness can be achieved with the wide colour gamut and high D-Max that the new coating brings.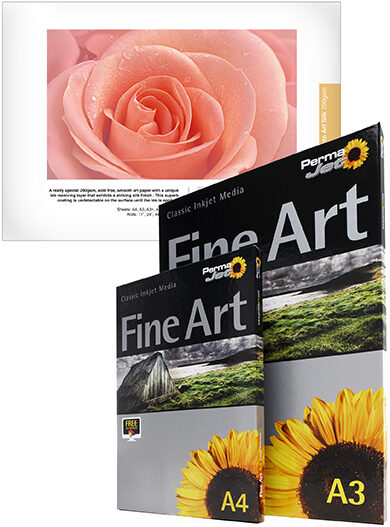 NEW – Photo Art Silk 290gsm
The popular surface and finish of the Smooth Art Silk has been updated to a 290gsm base offering printer friendly loading.
The unique ink receiving layer that exhibits the silk/satin sheen once printed on has been developed to give greater colour vibrancy and increased scratch resistance.
This superb coating is undetectable on the surface until the ink is applied and then bursts with a subtle yet, vibrant silk sheen. The new Photo Art Silk 290gsm media is ideal for all reproductions of landscape, wildlife and creative digital art as well as portraiture.
Unchanged Product
The NEW Portrait Rag 285gsm and Photo Art Silk 290gsm sit perfectly alongside the unchanged Portrait White 285gsm, Portfolio Rag 220gsm, Omega Rag 310gsm and Alpha Natural Rag 310gsm (a completely OBA FREE product) which benefit from the same material base tone, surface and upgraded coating technology.
---
TEXTURED FINE ART
The Textured Fine Art Range has an all new line up consisting of products which all share the same modern coating technology applied to their unique surface textures.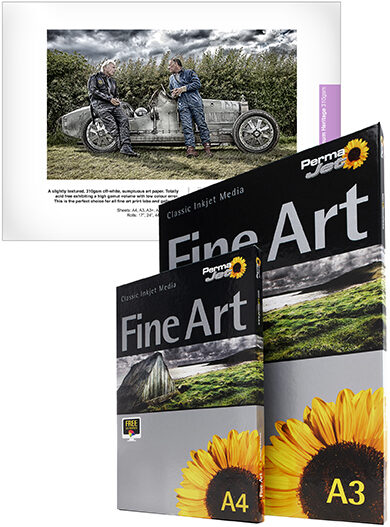 NEW – Museum Heritage 310gsm
The new Museum Heritage has been developed in co-operation with high quality image reproduction labs to ensure it delivers the maximum structure where ink can reside and be retained making it the toughest art surface the world has seen to date. This is a 310gsm natural white art paper with a pH neutral base that is delicately textured.
Produced from a mix of cotton and Alpha Cellulose which give a soft feel while retaining the rigidity the art printing and framing makers demand. Museum Heritage 310 benefits from a wide gamut volume with low colour error, and promises to become an iconic addition to the range. Museum Heritage has a wonderfully subtle texture ideal for galleries and photographers who intend to create fine art prints with a high degree of detail.
The enhanced coating increases image depth and tonal scale, making it a perfect material for both colour and Monochrome reproductions . Modern inkjet technology addresses ink transfer issues in previous versions to provide superior ink retention and full archival stability.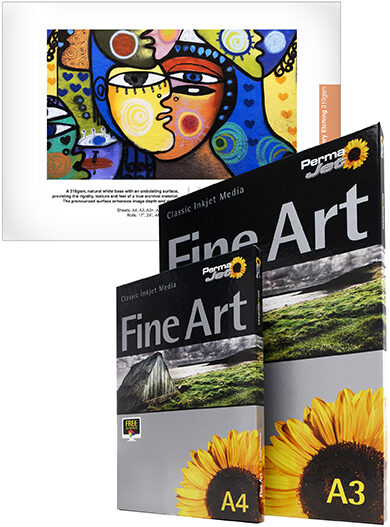 NEW – Gallery Etching 310gsm
This incredible addition to the textured fine art range provides one of the most interesting textures available whilst allowing the most detailed image reproduction possible.
The heavy weight, alpha cellulose 310gsm base is reminiscent of a modern day etchings paper exhibiting a consistent and undulating matt coated surface. It's natural whiteness works in harmony with any artistic or creative photographic image.
This is the ideal paper for those wanting to reproduce artworks with a rigidity, texture and feel of the most loved textured fine art materials available.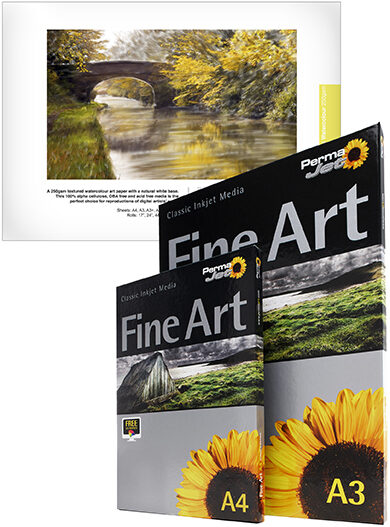 NEW – Artist Watercolour 250gsm
The Artist Watercolour 250gsm textured art paper has a sumptuous off-white base tone made from alpha cellulose. The mould-made base material with a highly defined rough surface that delivers incredible fine art prints.
Ideally suited to the reproduction of Artists' watercolour work or the output of photographic images from which you wish to achieve striking artistic impressions.
Artist Watercolour 250gsm boasts a very high colour gamut volume and a Dmax of 1.6 which combine to give you an elegant and versatile art paper.