Generic ICC Profiles
To download our FREE generic ICC profiles you need to be a registered user of this website.
Custom ICC Profiles
If your printer and ink type combination is not listed or you feel the generic profile is not good enough quality for you then we recommend you go make use of our FREE Custom Profiling Service.
Custom ICC Profiles are important for anyone wanting to print 100% colour correct images, whilst avoiding the hassle of guesswork and wasted time, paper and ink. This is a free service for any of the PermaJet inkjet paper or canvas range.
REMEMBER: All our profiles are named using an abbreviation after the paper type to let you know the required media settings when using the profile – e.g. APJ_OEM3000_OYSTER_EPG.ICM – EPG = (E)pson (P)remium (G)loss.
How do I get my Custom PermaJet ICC Profiles?
To create a custom profile you will need to print a PermaJet profiling chart through the Adobe Color Printer Utility, both of which are provided in the download below with full instructions.
Please follow the instructions closely to ensure your profiling chart is printed correctly. Any inconsistencies may mean we cannot create the profile for you.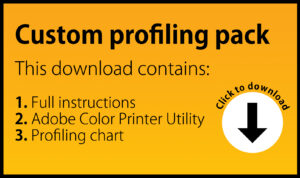 How do I install my Custom ICC Profile?
Watch our video's below which demonstrate how to install your ICC Profile on a PC or Mac.
Please note: these video's feature our old website but once the file is downloaded the process is the same! We are working to get these updated as soon as possible!
Do you need a Custom ICC Profile for a 3rd Party Paper?
We are pleased to offer a custom profiling service for any non-PermaJet 3rd party papers at a cost of £15 (inc VAT).
To order a Custom ICC Profile for a 3rd Paper:
Add the 3rd Party Custom ICC Profiling Service to you basket and checkout
Download our Custom Profiling Pack Instructions
Print your ACPU and send to us with the attached request form
We will profile your paper and send you your profile!